This page is currently closed for feedback. If you want to comment on the Experimental Traffic Regulation Order which is now in place for this scheme you can do so at Birmingham Be Heard where you can also view all relevant plans and documents.
We will be considering and analysing comments received to date as part of the review we are carrying out of our recently implemented emergency transport measures. If you have any questions, please email connected@birmingham.gov.uk.
We are currently finalising details of the next set of schemes to be delivered through the Department for Transport's Active Travel Fund in early 2021. We will shortly be setting up new project pages or reopening existing ones (as appropriate) to enable people to provide further comments and suggestions over the next few weeks.
Places for People aims to reduce traffic in residential neighbourhoods so that it is safer for people to walk and cycle, and nicer to be outside for children to play and neighbours to chat. In many parts of Birmingham, residents find their streets are busy with traffic, particularly when people are 'rat running' to avoid main roads. When traffic is reduced the neighbourhood becomes quieter, the air is cleaner and streets feel safer.
Over the next few months, we want to work with residents, businesses, community groups and others to create Low Traffic Neighourhoods across Bournville. These are groups of residential streets bordered by main or 'distributor' roads (where non-local traffic should be) where through trips by motor vehicles are discouraged or restricted. Residents can continue to drive onto their street, have visitors, get deliveries, etc, but it is made harder or impossible to drive straight through the area.
To start this process, we are proposing to introduce two temporary trial measures to demonstrate how this could work across the wider area. These will be modal filters that allow people on foot, bike or mobility scooter to pass but do not allow cars or other motor vehicles through.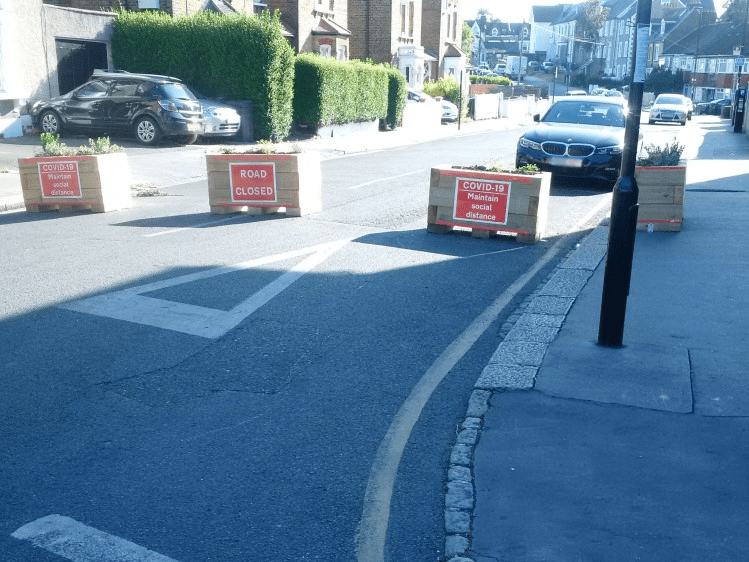 Example of modal filter in West Norwood, London.
These trial measures will be located:
• on Oak Tree Lane, to the south of the junction with Woodbrooke Road. see Location in Google Streetview .
• on Franklin Road, to the west of the junction with Linden Road/Watford Road. see location in Google Streetview .
Online Briefing
An online briefing on this project was held on 9 September – view recording .
Contractors will be on site installing these measures from Wednesday 23 September
Road markings and signs, including advance warning signs, will be installed first, followed by the planters to create the modal filters. Once the planters and signs are in place motor vehicles will no longer be allowed through these locations. Work should be completed by Friday 25 September. Please note that this is an indicative schedule and may be subject to change.
Once construction is complete, we plan to run some 'pop-up' events in the local area - although we will need to arrange this in line with any guidelines and restrictions that are in place.