Thank you for your feedback. We are now carrying out formal consultation on proposed measures at https://www.birminghambeheard.org.uk/economy/segments . Consultation closes 10 September 2021.
Transforming the city centre is one of the big moves outlined in the draft Birmingham Transport Plan (January 2020). To achieve this, fundamental changes to how the city centre is accessed were proposed as part of a city centre 'traffic cells initiative'.
This would see the city centre divided into a number of segments. Each one would only be accessed from the A4540 Middleway (ring road), and to move from one segment to another in a private vehicle you would have to go back out onto the A4540 Middleway. Movement between the segments would be unrestricted, and indeed enhanced, for public transport, pedestrians and cyclists.
The area within the A4540 Middleway will eventually be divided into six city centre segments, as shown below: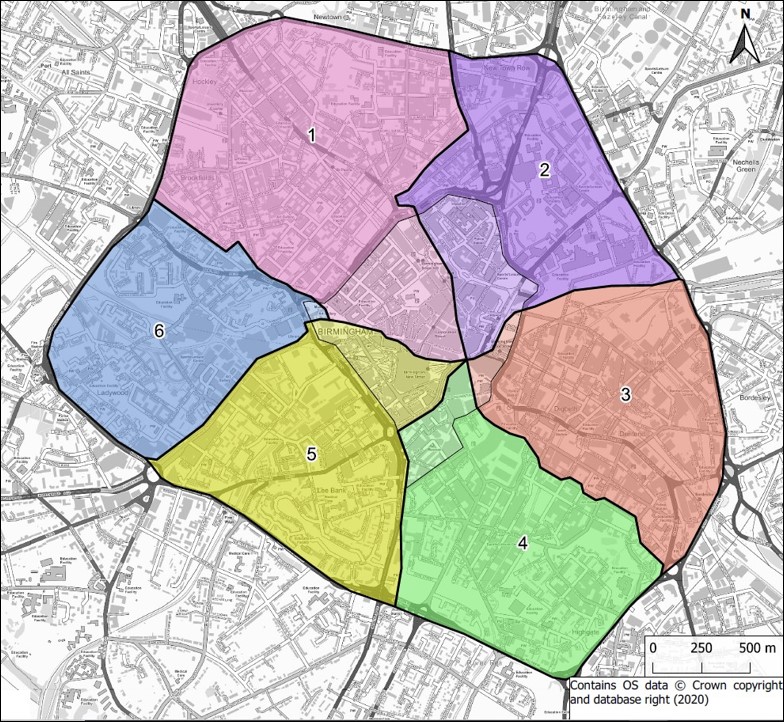 In 2020 we began to implement these City Centre Segments through the Emergency Active Travel Fund and as outlined in the Emergency Birmingham Transport Plan . By reducing the volume of through traffic and the dominance of vehicles in the city centre, we start to create more space for people.
Last year we delivered a number of temporary traffic management measures including:
prohibiting access to Cecil Street, Lower Tower Street and Brearley Street from New Town Row (access to New Town Row was maintained)
restrictions to north–south movements along Camden Street, Sand Pits and Parade
restrictions to westbound movements through A4400 St Chads Queensway
restrictions to east–west movements from Bristol Street
We are now planning to improve and build on these measures and extend the benefits across a wider area.
Your views
Through the Active Travel Fund, we have a real opportunity to continue transforming parts of the city centre. We want to work closely with residents, businesses, and other stakeholders to develop and deliver our vision for safer, greener and healthier places where people want to spend time.
We want to hear from you on how these measures have worked so far and what else could be done.
We are looking to develop schemes in the following areas of the city centre:
You can click on any of these areas and add as many comments as you like, until Friday 16 April 2021.
The next set of proposals will be informed by your comments and suggestions and then, following public consultation, further changes will be delivered over the coming year.